Best Gastro Surgeon in Rajkot | Gastrointestinal Surgeon Doctors in Rajkot
Dr. Darshan Patel at gastroenterology consultants takes care of your digestive problems and live diseases with extraordinary skill, extensive experience and the warmth and commitment that you deserve. Our doctors have a special expertise in the treatment of cancers of the esophagus, stomach, liver, pancreas, colon and rectum. Gastrointestinal (GI) cancer is a term used for the group of cancers that affect the gastrointestinal tract and other organs that are contained within the digestive system, including the esophagus, pancreas, stomach, colon, rectum, anus, liver, biliary system, and small intestine. Our patients benefit from a multidisciplinary approach that devotes a team of specialists to their care Patients with gastrointestinal cancers may undergo several tests to diagnose their cancer and/or determine its location and extent.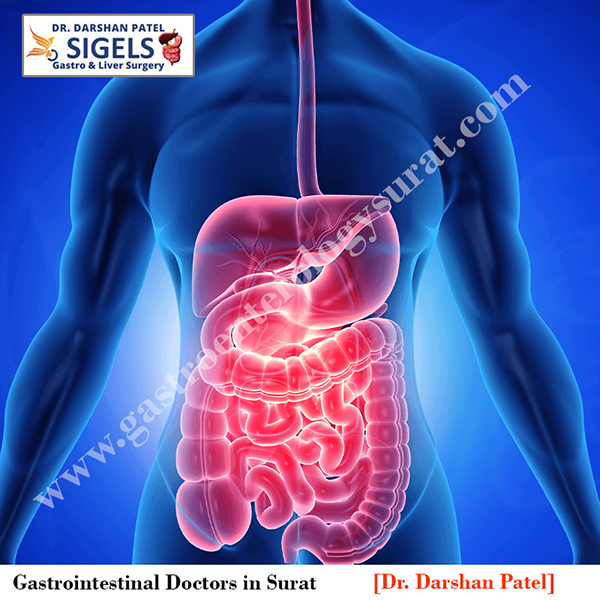 Best Gastroenterologist in Gujarat - Rajkot
This procedure allows the doctor to examine your esophageal and stomach linings and the walls of your upper and lower gastrointestinal tract, using a thin probe that records high-quality ultrasound images. Dr. Darshan Patel will look for signs of cancer, determine if your cancer has spread, or biopsy a mass. Further the Doctor needs to perform exploratory surgery to find out if the cancer has spread. Laparoscopic surgery is a minimally invasive procedure that allows the doctor to insert a small camera and surgical instruments through several small abdominal incisions. The specialist may confirm your initial diagnosis and treatment recommendations, provide additional treatment options, or even give more details about your type and stage of gastrointestinal cancer, Cancer of Gastrointestinal,  Gallbladder Surgery Doctor, Surgeon For Gallbladder Stones, Surgery For Esophageal Cancer, Best Esophagus Surgeon, Gastrointestinal Oncology Specialist Rajkot.